Looking Back at Year 2021 – Almost 900 VŠE Students Went Abroad
The year 2021 has already been the second year affected by the coronavirus pandemic. Despite that, a total of 873 VŠE students set off to study abroad or went on an internship abroad. It is approximately 130 more students abroad compared to the previous year! Out of the overall number of 873 outgoing students, 77 went on internships abroad and 796 to study abroad at one of our prestigious partner schools.  
At the same time, a total of 621 foreign students from our partner universities studied here at VŠE. 
Which destinations for internships and studies abroad are the most frequent?
VŠE students travelled to overall 46 countries on 5 continents in the year 2021. When it comes to exchange semesters abroad, the largest number of VŠE students went to Germany in 2021. Followed then by France, Austria and Sweden. However, VŠE students also travel to distant countries all around the world. In 2021 they studied not only in the USA or Canada, but also in Hong Kong, Thailand, Brazil or Russia. 
For an internship abroad, our students mostly travelled to our neighbouring Germany or to the Great Britain and Spain. Other very popular destinations for the year 2021 were Austria, Belgium and France. However, our trainees also reached more exotic and distant parts of the world last year, such as the United Arab Emirates, Israel, Peru or the USA.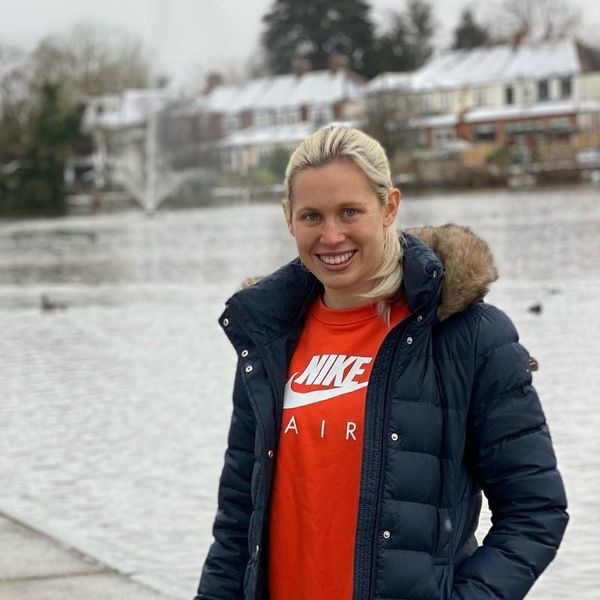 Kateřina Svitková (FIS), West Ham United, UK
"During my traineeship, I was creating statistical surveys to help physiotherapists to prevent injuries among players. I have created various models to point out what players should focus on more and what can be improved so that injuries do not occur that often. Every day spent abroad on my own helped me to grow a lot. To have a chance to see how it works in a foreign company, how another culture works and what it is like to take care of yourself in a foreign country is an invaluable experience. I am glad that the VSE has given me this experience."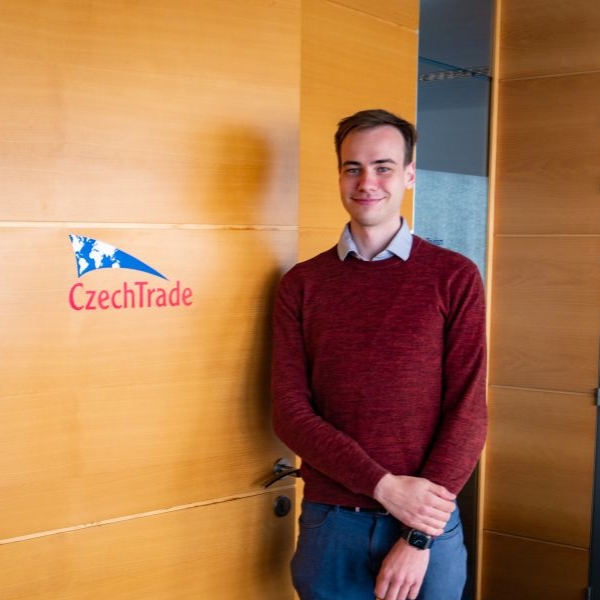 Marek Pokorný (FIR), CzechTrade Paris, France
"A traineeship in the CzechTrade is a great opportunity for everyone who are not scared of challenges and want to improve their foreign language skills! Thanks to my traineeship in Paris I learned that the Czech export is not by a long shot only cars and that skilful Czechs have definitely a lot to offer to the world. When I managed to interconnect a Czech producer with a French customer, it always gladdened my heart with a feeling that the role of the CzechTrade abroad is indispensable. 😊"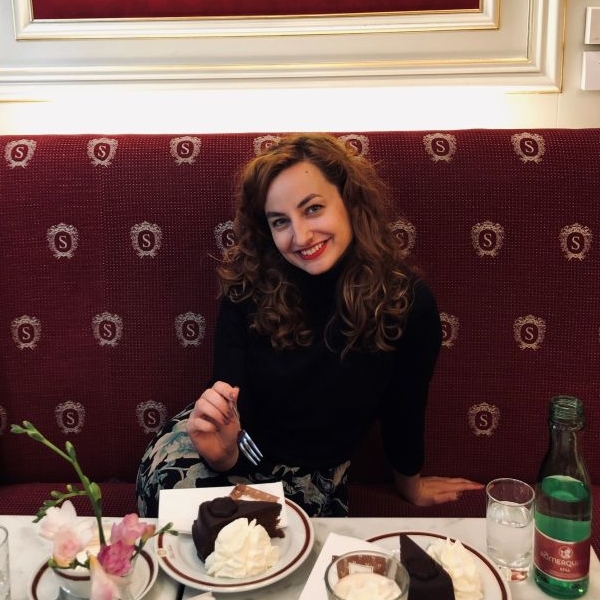 Nikola Frollová (DM FBA), Wirtschaftsuniversität Wien, Austria
"I didn't believe you could fall in love with a city. I am excited about my research stay in Vienna. I enjoy the beautiful campus, which was designed by Zaha Hadid. The whole university is an inspiring place for me thanks to the academics who I can discuss my dissertation with. I can meet the authors of the works that I present in my dissertation in person, and I had the honour to present some of my work in front of them at a local seminar. Vienna is a beautiful city that is not afraid to combine modern architecture with the traditional one, and the romantic atmosphere of Egon Schiele, Gustav Klimt and Beethoven is present everywhere you go."
Who goes abroad most often?
The possibility to study abroad or to go on an internship abroad is open to all VŠE students. In 2021, a total of 422 bachelor's students, 440 master's students and 7 doctoral students took advantage of this opportunity. The remaining 4 study abroad stays were of recent VŠE graduates. 
From the perspective of individual faculties, the most active travellers are students of the Faculty of International Relations, followed by students of the Faculty of Business Administration and the Faculty of Finance and Accounting. 
What about the pandemic?
Even though the instructions were again conducted mostly online during the year 2021, many partner universities have chosen a combination of distance and face-to-face teaching. Still, our students evaluated their studies or internships abroad as an invaluable personal and academic experience. Their stories and photographs are published on the website Erasmus during the Corona Times, on Instagram vse_studyabroad and Facebook VSE Study Abroad. 
Several VŠE students also studied in Liechtenstein or Iceland in the year 2021 within a project financed by the EEA Grants 2014-2021. Their photographs and testimonials can be viewed on the website Liechtenstein Through Students' Eyes and Iceland Through Students' Eyes. 
A novelty of the fall semester 2021 was a new regular series of student takeovers, where we always lend our IG stories to selected students for one day so that they can share their experiences and tips from their exchange semesters abroad with others. We store all takeovers on our instagram profile so that our students can constantly draw inspiration from them!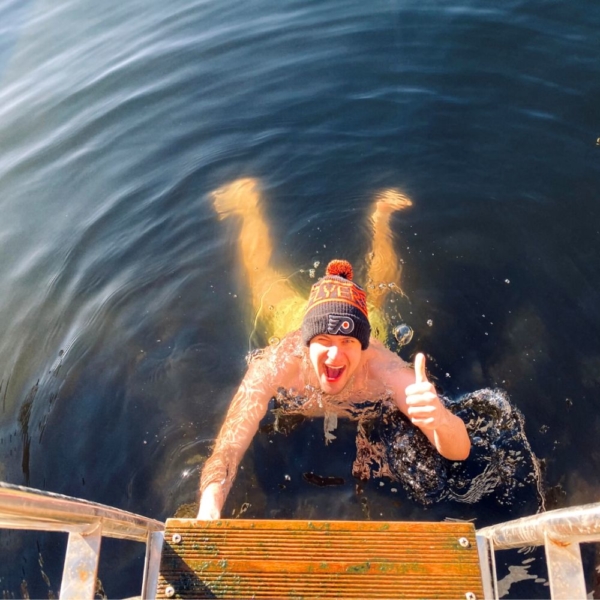 Petr Jindřich (FIR) – Norwegian School of Economics (NHH), Norway
If I speak for myself, I have a great time here! After a month in Norway, I've changed my priorities and way of life. Unfortunately, we have the school online (except for 1 course, when we are physically at school – I would not believe that, but I have never been happier to be back at school).

We live in a student dormitory. It's kind of a "bubble" mixed of Erasmus and local students. There is a common room where all international students meet, so it is not a problem to have fun together. I personally share the floor and the kitchen with one girl from Germany and 3 Norwegian students.

The weather – for the first month, there was no rain at all, but then came the typical weather for Bergen – rain. Well, the online teaching seems like a big advantage – lectures are recorded, so it is not a problem to start a lecture at any time. That means, when the weather is nice, we go out, when it is not, we learn.

Regarding the life in Norway during the covid, I feel as if there is no covid. Yes, we had a lockdown, but we didn't miss anything. The common room was not closed, the shops were open, the gas station where we go for really good coffee was open, the fitness centres were also open.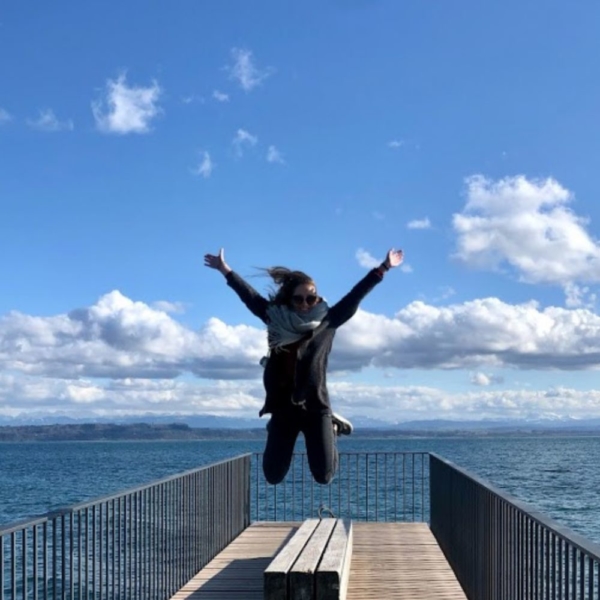 Tereza Kučerová (FIR) – University of Lausanne / Faculty of Business and Economics (HEC), Switzerland
My stay in Lausanne began with a great challenge: the 10-day quarantine in a room about 9 m2. So the days after the quarantine were really "liberating".

We have had the school online since the beginning of the semester, but we can go to the campus, so we can meet in the library or go to the canteen for a lunch. The courses take place in groups of various numbers (up to 150 students) and consist of lectures and group work in smaller teams. I was surprised how much work is required to do at home.

The Swiss are incredibly nice and friendly. Everything is very clean here and everyone does a lot of sports – runs or rides a bike. The nature around just encourages you to do sport. We even took bath in the Lake Geneva (Lac Léman) for the first time in March. It was a funny experience, because people were walking around in winter clothes.

I must say that I enjoy my stay in Switzerland very much. I am really happy here and I already know that when my exams are over, I will most likely stay here a bit longer to travel more and discover the more distant parts of the country.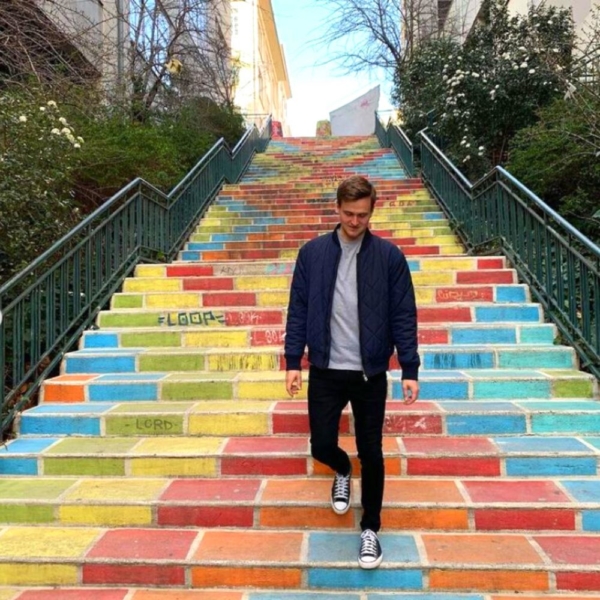 Vojtěch Macek (FFA) – Kedge Business School, France
The face to face classes started in mid-February, so we have a lot of opportunities to meet other students. Due to covid, there are not as many exchange students as usual, but it makes our relationships even better and stronger. French students treat us as if we were locals, and we have good relationships with them too.

Exchange students are taken care of by the student organization Interact at KEDGE. They prepare many activities for us. Teachers place great emphasis on group work and various case studies, so it is necessary to prepare every week. However, this can be easily managed.

During the semester we also have some holidays, and we usually don't have all classes every week. So, there is also enough time to travel. The TGV high-speed train line leads to Marseille, which allows to travel basically all over France very quickly.

I think that France is a good choice not only in times of pandemic. The anti-covid measures are not hectic here. The situation is stable, and the government seems to know what to do.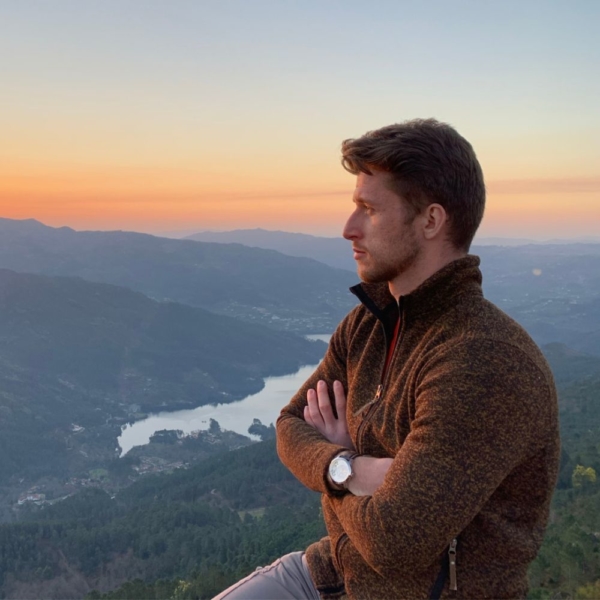 Lukáš Strýček (FoEcon) – University of Porto / School of Economics and Management (FEP), Portugal
Staying in Portugal is great even during the coronavirus pandemic, and it's absolutely amazing here. I can't complain about anything and I'm really happy. Porto is a beautiful city and Portugal is a great country that offers countless experiences. As for the current restrictions, everything works, but with a limited time. Traveling both in the city and in the surrounding regions is not limited in any way, which is really great, so I try to make the most of my stay. In terms of travel, sports, and other leisure activities, one feels as if there was no coronavirus crisis.

The teaching itself currently takes place in a hybrid form. It is preferred that one goes to university in person, but if s/he is not feeling good or has another serious reason, s/he can watch the class online. As for contact with other people, we have a really great group consisting mainly of foreign students. I must admit that the university itself has its qualities, which one knew from the approach of teachers and the content of lessons.

In conclusion, I must add that anyone who hesitates whether Erasmus is a good choice or not, go! You will not regret anything, and you will have lifelong experiences.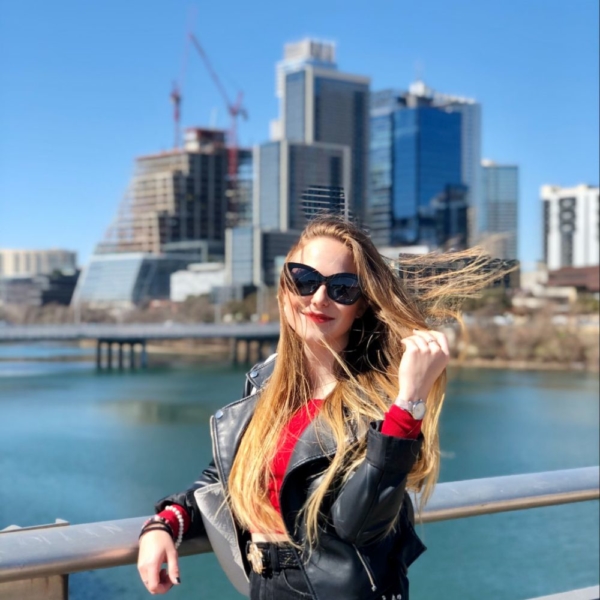 Michaela Pejřimovská (FBA) – Texas A&M University, USA
When I was choosing a country where I would like to go for my exchange, Texas was at the height of the Covid-19 pandemic and it looked pretty bad. I didn't lose hope, and it got better and I went away!

If I had to summarize the whole exchange now, after my experience, I would say one thing – I am grateful and I do not regret anything. In fact, I would do it all over again. I had the opportunity to meet countless great people from all over the world and see the places I have always dreamed of, such as Las Vegas, Los Angeles, Miami or Mexico.

As for the university, it definitely gave me a lot more than I expected. We had classes in-person and online, depending on what subjects you chose. Both forms were very well organised and everything went smoothly. Texas A&M is a university with many traditions and a lot of history, so it hosts countless events where you feel like you're really a part of it and that you're all on one team.

In conclusion, I would say that I enjoyed my stay immensely and I will definitely come back as soon as I can. I definitely recommend to everyone, who has the opportunity, to go on an exchange, not only to the US. The experiences I have gained here are priceless. I'm leaving Texas with a heavy heart and I believe this is not my last time here.

Previous Next